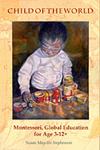 In January 2018 Michael Olaf will close. The owners/creators, Jim and Susan Stephenson, who are now in their 70's will retire. Thank you for all of your support over the years. With very few exceptions (those things that are made locally, such as the slatted chair, topponcino, and a few other hard-to-find items) as each book, toy, or tool runs out it will not be reordered. Please keep this in mind for your school ordering, gift ordering, holiday ordering.

Age 3-7: People of the World

The study of the world and its people at this age revolves around an exploration of basic needs, of the child's own community and of the world: food, shelter, clothing, transporation, music, art, and so on. Seeds planted early can grow into a love of history and geography.

Now, and after Michael Olaf closes, the Montessori books written by Susan Mayclin Stephenson (4 titles so far and more coming) will be still available by Montessori book suppliers and Amazon.com in many countries. The titles so far are: "The Joyful Child . . . ", "Child of the World . . . ", "The Universal Child . . .", and "No Checkmate . . . "