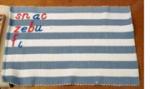 PE026 Blue & White Work/Play/Floor Mat *Sold Out*
$0.00 $0.00 On Sale!

These special striped floor mats help children keep moveable alphabet letters, vocabulary cards, blocks, and other materials in order, fulfilling a special need at this age. The unrolling, working, then rolling up and putting away at the end marks the beginning and end of a work cycle, and provides a feeling of completion and success. Floor mats also mark the private work space, and teach respect for concentration. An activity that teaches children to be careful about stepping on mats and disturbing others space is to spread out several mats and to practice walking through this maze of mats without stepping on them. This is an exercise in care of movement as well as respect of others. For use at home or at school. These beautiful striped rugs are made to our specifications in India, of 100% cotton, 2' x 3'.