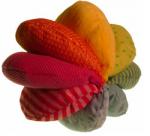 BR075 Stoffball *Sold Out*
$0.00 $0.00 On Sale!

STOFFBALL First useful as a slowly rolling ball, this amazing ball has 8 segments, each a different color or pattern or fabric, from softest flannel, to silky, to netting. Additionally several of the segments make sounds, such as the sound of crinkling paper, rattling beads, or a squeaky toy. It will provide hours of exploration and entertainment.