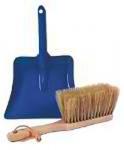 DR902J European Dust Pan & Whisk Broom
$16.00 $12.75 On Sale!

EUROPEAN Dust Pan & Whisk Broom This is a charming, old style brush with natural bristles, a hardwood handle, and leather hanging strap. The metal dustpan is dark blue and has a lip that works better than any we have seen. A very special set for the child. The dustpan is 9" x 6.5". Made in Germany.