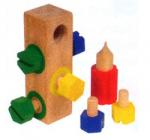 CT950 Screwdriver Toy *Sold Out*
$0.00 $0.00 On Sale!

SCREWDRIVER TOY Instead of using one hand in rotation or both hands in opposition rotation, here the child can use the small screwdriver as well to turn the screws into the holes. An additional challenge is to put the two blue screws in the holes with the blue rings around them, the red in the red, and the yellow in the yellow. The natural wood block is 6" high and it comes with 6 "screws" and a stubby wooden screwdriver. Made in Thailand.