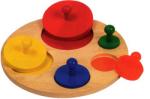 CT690 Circle Sorter Puzzle
$20.00 $15.00 On Sale!

CIRCLE SORTER PUZZLE The large knobs of this puzzle are almost 2" in height, for the child who is still using a whole hand grasp. The frame is natural wood color and the puzzle pieces painted bright colors, the knobs matching. Solid wood, 11.8" in diameter. Made in Thailand.