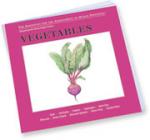 DL950 Large Vegetable Pictures, set/10
$24.50 $14.00 On Sale!

There are ten pictures. They are printed on wipe-clean coated cardstock, 11" x 11," printed in full color, and large enough for the child to see the details. On the back of each is a list of 10 interesting facts to stimulate conversation. Included are: kale, artichoke, daikon, asparagus, snow peas, garden beet, bok choy, broccoli, swiss chard, and brussels sprouts.