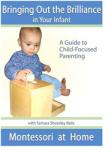 GB050 Bringing Out the Brilliance, DVD *Sold Out*
$0.00 $0.00 On Sale!

Bringing Out the Brilliance in Your Infant, DVD. I have watched this 2-hour DVD twice and consider it very helpful. It was created by a parent who is also a Montessori teacher. It shows how to design each room of the home, select toys and materials, utilize Montessori philosophy, to honor your child's innate potential and support his or her optimum development. Montessori professionals are interviewed and methods explained that will help you begin to support your infant or young child's happiness immediately.