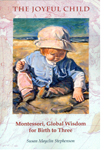 GB400 The Joyful Child: Montessori, Global Wisdom for Birth to Three (discontinued first edition)
$19.95 $12.00 On Sale!

This book is essential for understanding the value and use of any of the birth-three products on this site, and our most popular "shower" gift for expectant parents. Introduction by Silvana Montanaro, MD. "The Joyful Child' gives both practical information and tremendous inspiration for all who are involved with the child from the time before birth through the age of three. Brilliant and essential reading!" -Cathryn Kasper, Montessori teacher, school consultant, and grandmother. This book has been translated into many other languages.