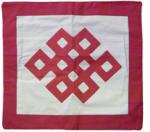 TIB120 Endless Knot Cushion Cover, Red *sold out*
$0.00 $0.00 On Sale!

Made in Dharamsala, India by Tibetan refugees, this item can be used a cushion cover or it can can be, framed or unframed, hung as a Tibetan decoration. Approximately 16x16" cotton, white and a Tibetan red A lovely addition to the home or classroom.