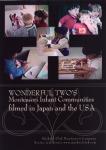 GB490 WONDERFUL TWO'S, Montessori Infant Communities in Japan and USA (DVD)
$35.00 $25.00 On Sale!

THE WONDERFUL TWO'S: DVD Susan Stephenson filmed children in the Infant Community at the first AMI Montessori 0-3 course in Japan, and then at the training center in Denver, Colorado. A friend helped her make this DVD from the film. It has been used in many countries, by parents and teachers of children of all ages, to see the amazing potential of the child under three years of age for concentration, real work, order, and care of others and the environment. The Wonderful Two's is often considered "required watching" in schools with 0-3 Montessori programs. Parents report that it helps them immensely in the home. 50 minutes.