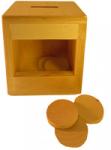 CT035 Box with Round and Square Discs-sold out
$0.00 $25.00 On Sale!

BOX WITH DISCS Two complete toys, activities, abilities. This finely-crafted hardwood box gives the child practice with eye-hand coordination as he places the 2-inch round wooden discs into the slot on the topó like coins in a piggy bank. Then he reaches into the open front and retrieves the discs to repeat the activity. There are no lids to lift or slide, and the task is easy for the child to repeat over and over. The box comes with six round wooden discs. A more advanced work is made possible with 2-inch square discs (CT039). Unlike the round discs which fit into the slot no matter how the child holds them, the squares need to be exactly lined up with the opening to put them through. Made of Baltic birch plywood, 6.5" tall, the top is 6" x 4.75". From the USA.