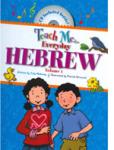 CB707 Hebrew, book and CD
$20.00 $12.00 On Sale!

BASIC SOUNDS FOR THE VERY YOUNG: BOOK AND CD Research shows that the first year of life is the "window" for the child to process the sounds of the environment. So we recommend exposure to ALL of these CD's in the first year. Later the child will have a superior awareness of sound and music, an ability to understand people from all over the world, and to learn any language. Each CD contains the same songs, such as The More We Get Together, and Head, Shoulders, Knees & Toes, and short everyday conversation segments such as colors and numbers and greetings, but each in a different tongue. NOTE: If your family is English-speaking it is very important that you have the English version for the child to learn the songs and expressions in his own language to compare with the others. These are 32-page brightly colored hardcover books, with a CD enclosed. 8.5" x 11". Also wonderful for traveling adults!