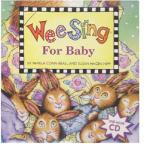 CL115 Wee Sing for Baby, CD and booklet
$10.99 $7.75 On Sale!

WEE SING FOR BABY, CD & BOOKLET This is the most complete set of favorite first songs we have heard. There are 65 songs, by children or adults, introduced in the native language and sung in the native language and sometimes in English. The CD includes these favorites: This is the Way the Ladies Ride; Ring around the Rosy; Rock-a-Bye-Baby; Twinkle, Twinkle, Little Star; Hickory, Dickory, Dock; Pat-a-Cake; Pease Porridge Hot; Heads and Shoulders; German Cradle Song; Sleep, Baby, Sleep. All of the songs have been tried and tested for years and remain favorites of children. The booklets contain guitar chords for many and the complete lyrics for all selections. Approximately one hour in length.