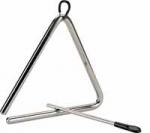 DM60 Triangle- sold out
$0.00 $4.00 On Sale!

(Percussion Instrument) TRIANGLE This instrument made for children, but still of very high quality, made of natural materials (no plastic) that meet our standards. It is appropriate for the home. For the infant community we recommend having three or four so the teacher can introduce the use, and sound, one kind of instrument at a time to a small group of children. The 4.5" metal triangle comes from the USA.