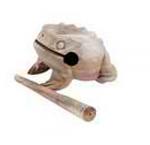 CM140 Wooden Tree Frog
$12.00 $8.00 On Sale!

(Percussion Instrument) WOODEN TREE FROG, small. This instrument made for children, but still of very high quality, made of natural materials (no plastic) that meet our standards. It is appropriate for the home. For the infant community we recommend having three or four so the teacher can introduce the use, and sound, one kind of instrument at a time to a small group of children. The wooden tree frog is approximately 4" long and really sounds like a frog when the striker is rubbed across the back ridges. It come to us from Southeast Asia.