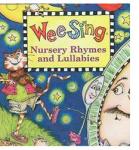 CL125 Wee Sing Nursery Rhymes/Lullabies *sold out*
$0.00 $0.00 On Sale!

WEE SING NURSERY RHYMES & LULLABIES, CD & BOOKLET Here are 55 nursery rhymes from the English heritage, and 22 lullabies. There is a wealth of "formal" language in this collection—vocabulary, verbs, sentences, phrases, ideas that one does not encounter in everyday conversation. It is important for the child to hear these rhymes for a long time, absorbing them through repetition, before being expected to recite them. It is also enjoyable for the adult to learn them so both can develop a repertoire of the first poetry to enjoy reciting together. The booklets contain guitar chords for the lullabies, and the lyrics for each selection. Approximately one hour in length.