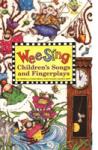 CL170 Wee Sing Fingerplays, CD and booklet
$10.99 $7.75 On Sale!

WEE SING FINGERPLAYS , CD & BOOKLET Here is a useful CD of short, simple, favorite songs and fingerplays for the very young. There are 73 classic songs and fingerplays and a booklet which gives the melody and guitar chords for many and the complete lyrics for all selections. Here are some examples: Eentsy Weentsy Spider, Grandma's Glasses, Where is Thumbkin?, This Old Man, The Alphabet Song, Twinkle, Twinkle, Little Star, The Mulberry Bush, Over the River, Hush Little Baby. Approximately one hour in length.