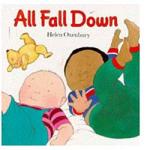 BB300 All Fall Down, cultural board book
$8.00 $4.50 On Sale!

FIRST CULTURAL BOARD BOOKS Children love these books. As the pages turn, a simple poem or nursery rhyme is combined with delightful illustrations of sweet and cuddly babies of all different races, who are portrayed with smiling faces and carrying out friendly and peaceful activities. Example: Squelch, squelch, in the mud; Splish, splash, scrub-a-dub; gently, gently, brush your hair; tickle, tickle, under there. You will be asked to repeat each book over and over. Good language, charming illustrations, important lesson. Heavy cardboard, 8 pages, full color, 8.5" x 8.5."