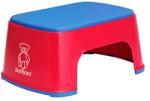 PE270 Waterproof Step Stool-sold out
$0.00 $0.00 On Sale!

WATERPROOF STEP STOOL For the Kitchen and Bathroom. For places where water is a consideration, such as the toilet or sink, this is the best. The rubber matting on the top provides a nonslip surface for your child to stand on safely, even with wet feet. The strong rubber feet prevent it from sliding on the floor; the step stool stands firmly and so does your child. The color is apple red. It is 6" tall, and the base is 13" x 10". Made in Sweden.