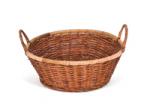 PE762 Small Basket *Sold Out*
$0.00 $0.00 On Sale!

SHALLOW 2-HANDLE BASKETS Two-hand baskets are used in the infant community for setting the table, making a satisfying ritual of placing the dish, cup, glass, bowl, in basket, carrying it securely to the table to be set, returning for the next one. The child loves the repetition at this age, and this system is much better than the adult desire for speed and efficiency! There are many other uses in the home for these tight weave baskets, including a container for the first selection of rattles for the infant, a childsize laundry basket, and so on. They are very safe and easy for even the smallest child to use, finished with a protective coating, the handles reinforced. This small basket is 9.5" (3" high).