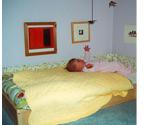 BA376 European Floor Bed Frame
$170.00 $130.00 On Sale!

EUROPEAN FLOOR BED FRAME Only for use in a childproof, safe, environment. It is ideal to give the child, from birth, a twin bed mattress on the floor or his room so that he has room to practice moving, and can see everything in the proper way, and not through "bars." This also makes it possible for the family members to lie in bed with him to read stories, sing, and get to know each other. However, since a plain mattress is too much of a leap for many new parents and grandparents, this "crib" size bed frame gives a more formal look to the room. It is also valuable for small rooms at home, or in infant care centers where there is not enough space for a twin adult mattress. Using this crib-size European floor bed frame gives a child a clear view of the surroundings which makes being in bed, especially waking up, a lot more interesting, and it supports physical and psychological independence because eventually she will be able to get in and out of bed at will to explore the SAFE room. The frame comes disassembled, with four hardwood plywood polished pieces and hardware. NOTE: Please be sure that you purchase a crib mattress that will fit, as there are different sizes of mattresses on the market today. The INSIDE dimensions are 28" x 52" x 5." Made in the USA.