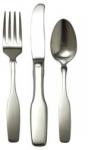 DR619 Flatware, 3 individual pieces-SOLD OUT
$21.00 $12.00 On Sale!

The individual flatware pieces are made by the same famous company as the boxed set (DR60). They are slightly longer, slightly lighter, and often used by schools for the lunchtime meal. The knife is 6.6", the fork 6", and the spoon 5.3" in length. Excellent for the daily meals in the home as well as in the classroom.