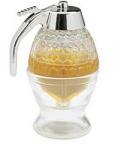 DR074 Honey/Syrup Dispenser *Sold Out*
$0.00 $0.00 On Sale!

When we first discovered this jewel of a honey server we gave it to all of our relatives for the holidays! Honey and maple syrup are better for children than sugar, and this utensil allows a child to serve himself without making a mess. With the squeeze of a button the honey or syrup is dispensed through the bottom of the glass container. Then the container is placed back in the glass holder/stand which is included. The honey dispenser, with the stand, is 6" tall. NOTE: not for thick or crystallizing honey.