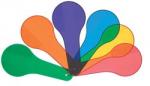 DT347 Color Mixing Paddles (6 clear colors) *Sold Out*
$0.00 $0.00 On Sale!

This is a fun and clear introduction to the concept of color mixing and a preparation for art and for physics. These six transparent plastic paddles can be combined to show the formation of the secondary colors. The primary colors are red, blue, and yellow. If we combine any two of these we will make one of the secondary colors of green, purple, or orange. Along with the primary colors, there is one paddle each of the secondary colors for further exploration. 6 inches long.