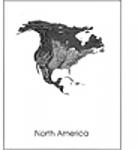 DE636 Michael Olaf black & white land/water form/continent cards, 3 Sets in One
$8.00 $4.00 On Sale!

(1) land and water forms, (2) definitions of land and water forms (3) continent cards and labels. These are the first cards used in geography study: There are 8 labeled illustrations and eight definitions of the first four pairs of land and water forms taught in 3-6 classes—island/lake, cape/bay, isthmus/strait, peninsula/gulf. Each land or water form is enclosed in a circle to inspire the child to make his own land and water forms in the small pie pans below. A labeled picture of each of the seven continents—Antarctica, Asia, Africa, North America, South America, Australia, and Europe is included—and the names of these continents to be cut into seven small labels of each continent. The 4" x 5.5" cards are printed in black on white cardstock. For use as three-part cards, please order two sets.