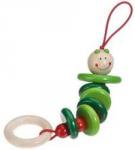 BR010 Rattling Caterpillar Hanging Toy
$16.00 $13.00 On Sale!

RATTLING CATERPILLAR When the child can get a grasp of this toy she can practice shaking and pulling the toy, stretching the elastic that holds the beads and discs. A natural wood ring and 6 discs in two shades of color give the experience of focusing on the differences in one color. Rattling Caterpillar is 7.5 inches long. Wood, from Germany.