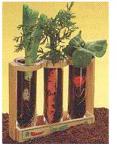 DP870 Seed and Root Viewer
$12.00 $8.50 On Sale!

This viewer will make the magical world of seed sprouting, and root growth available to the eye. Plant 2 large beans in each tube, protect from the light with black paper and the growth will occur right next to the outside of the tube. If the tubes are kept in a dark place while the seeds and roots are sprouting the growth will be all the more impressive. Three 5.5" long plastic tubes come in a wooden holder. For the first planting, soil and seeds and directions are included.