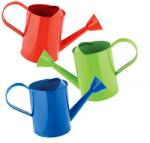 DP755 Garden Watering Can *Sold Out*
$0.00 $0.00 On Sale!

This watering can has a spray nozzle that allows the child to water the plants without disturbing the soil, a problem even for adult gardeners. It is made of metal and comes in bright colors, but we never know which color. The watering can design is sometimes a bit different than this illustration as the makers discover better and better designs. The can body is 5.2" high and 4" in diameter.