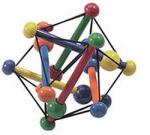 BT04 Squish *sold out*
$0.00 $0.00 On Sale!

COLORED WOOD SQUISH This exciting multidimensional toy can be hung above the child from the toy hanger at first, and then will inspire hours of exploration when the child learns to sit up and play with it. Infants are fascinated by the wooden rods and balls, the way the pieces can be moved, the balls sliding along the rods, and the stretchy cord that holds the toy together. Squish is an engaging toy, enjoyed by children of all ages and safe for infants. It is 6" in diameter. Safely made in China for a USA Company.