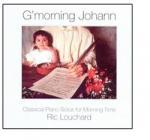 AA276 G'Morning Johann, CD
$13.50 $8.50 On Sale!

CLASSICAL PIANO FOR INFANTS Our grandson wore out two of the G'Night CDs! A lovely introduction to the best of classical piano music for the child. The pieces are carefully selected to provide a charming introduction to a broad cross-section of world-famous music which has been favored by a wide audience over the years. They provide excellent preparation for a child's later study of music. The morning music is cheerful and invigorating, and the bedtime selections calming and peaceful.