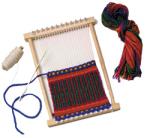 DA15 Peg Loom *Sold out*
$0.00 $0.00 On Sale!

Children immediately grasp the technique of weaving with this simple but sturdy loom, and join in the 8000-year-old satisfying craft, making a purse or bag, coasters, or wall hangings. This provides a welcome opportunity for creativity and concentration for any child. Everything the child needs to begin is included: hardwood loom with rugged nylon pegs, 100% wool yarns, strong cotton warp yarn, plastic needle, instructions.