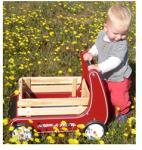 BT136 Walker Wagon *Sold Out*
$0.00 $0.00 On Sale!

WALKER WAGON This vehicle is an important aid to development because it puts the child in charge of the process of learning to walk. When the arms and legs are ready she will practice pulling up, and eventually walking, at exactly the right time for her. In the beginning, depending on the surface of the floor, the adult might want to put heavy books in the wagon if more weight is needed to slow the wheels. But soon the child will be using the walker wagon only as a stepping stone to taking off on her own with no help. The walker wagon is designed for maximum stability. It has an innovative "resist" push feature for beginning walkers, durable wheels with grip tread, a natural wood body, and removable wooden stake sides for later use as a doll buggy and wagon. It can be used inside or outside. The body is 20" x 12" x 15.5"; the metal handle height is 19". Made in China for a USA company.