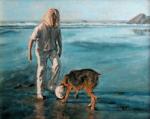 Art of Susan Mayclin Stephenson
Michael Olaf is a publisher of Montessori books and continuing to provide a few specialized Montessori-approved products for Montessori nidos (birth to one year), infant communities (1-3 years), primary classes (3-6 years) and homes. Michael Olaf Montessori Publishers, PO Box 1162, Arcata, California, 95518; www.michaelolaf.net; michaelolafcompany@gmail.com

36DL The Dalai Lama with Mala - original oil painting
$5,000.00
oil on linen, unframed, 18" x 24". I have been fortunate to have met the Dalai Lama two times, once in Dharamsala, India and then in Gangtok, Sikkim. This painting was made from picture I have taken combined with inspiring photos from magazines and books. He is holding a mala or prayer beads that are used by many Tibetan Buddhists to keep one focused on the present and with compassion for others.



36SUFI Ten Portraits of Sufi Singers, original oil painting
$3,000.00
oil on linen, 11" x 14", unframed. While working in Morocco I was treated to a beautiful performance of Turkish Sufi dancers and singers out under the stars. My eyes were continually drawn to the religious passion shown on the faces of the singers on either side of the dancers. One portrait is a difficult undertaking; ten portraits a challenge that took years, and I feel that I have gotten to know a bit about each of thee men.



36KIMONO Kubata Kimono-inspired Japanese Abstract - original oil painting
$700.00
oil on board, gold frame, painting 9" x 12", frame 13' x 16", Visiting the Itchiku Kubota Art Museum in Kawaguchi-ko, Japan, I was inspired by the paintings on kimonos to create this abstract. Kubota (1917-2003) is considered the most important textile artist of the 20th century.



36RUSSIA Russian Baptism - original oil painting
$3,000.00
oil on board with hanging wire, unframed, 12" x 9". While working in Russia I was taken to the village of Klin, the last home of the famous Russian composer Tchaikovsky. His home has become the official Tchaikovsky Museum. As we walked around the grounds my hostess and I hear singing and were invited to witness, in a small Russian Orthodox church, the baptism of several babies, each one taken around to kiss, be killed by?, the beautiful icons painted on the walls.



36RIECKE The Riecke House - original oil painting
$2,000.00
oil on canvas, gold frame. 11" x 14", frame 15.5" x 18.5". The famous Riecke House is one of two historical, surviving turn-of-the-century homes that still exist. Today it contains The Trinidad Art Gallery and great care if taken to keep both the building and the surrounding gardens in excellent condition. Thus the inspiration for this painting.



36DRIVER Camel Driver at Petra - original oil painting
$1,200.00
oil on board with hanging wire, unframed, 9" x 12". While visiting the ancient ruins o Petra in Jordan I was inspired to paint the scene of this camel stopping for a break, squatting serenely on his heals which is a posture so common and healthy in the world.



36INNES Boats Sinking into the Swamp - oil study
$500.00
oil on canvas with hanging wire, unframed, 14" x 11". During my classical oil painting studies, we worked on "studies" of copies of the artists of the past most successful in landscapes, still life, and portraits. This is an example of one of these studies, that I still do to learn more about color, composition, and brush strokes.



36CHESS Lewis Chess Piece with Squash and Apple - o/c SOLD
$500.00
oil on canvas, stressed gold frame, painting 6" x 8", frame 9" x 11". Years ago I bought a beautiful chess set in Edinburgh, Scotland and incorporated one of the pieces in this still life with squash and apple. The Lewis chess pieces were discovered in 1921 on the island of Lewis in the Outer Hebrides. They were from the 12th century, cared from walrus ivory.



36SAND Art in the Sand, print on canvas
$300.00
print on canvas, 16" x 12". The original oil painting from which this print was made is of our third grandchild, discovering drawing with a stick in the sand while visiting our beautiful Humboldt County, California beaches. This piece is printed on canvas, and ready to hang, or to be framed.