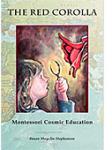 GB730 The Red Corolla: Montessori Cosmic Education for Age 3-6
$19.95
This book is helping Montessori and non-Montessori families explore the natural and man-made world with their children. There are clearly defined lessons for ages 3-6+ in physics, botany, zoology, history, geography, music, and art, based on lectures by the author on the first AMI primary teacher course in Morocco. For families, schools, teacher training centers.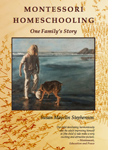 GB160 Montessori Homeschooling, One Family's Story
$19.95
"The book 'Montessori Homeschooling' is a must read for every homeschooling parent, and every teacher in a Montessori elementary classroom!" -Montessori 3-12 consultant, The Hague, Netherlands. This book was created during the Covid-19 pandemic in order to support, and give creative ideas to, parents, Montessori guides, and teachers. It documents 15 years of homeschooling through elementary, middle, and high school - guided by a mother with Montessori 0-3, 3-6, 6-12 experience and a father who is head of the Michael Olaf Company.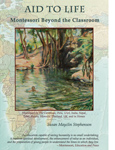 GB900 Aid to Life, Montessori Beyond the Classroom
$18.95
This book takes basic Montessori principles and applies them to common everyday situations. A rare treat for parents of children and young adults at all ages. Also read about how these principles were used in a private British/Peruvian school in Peru with NO Montessori materials, and are helpful in orphanage in Morocco, a school for the blind in Tibet, and a Montessori teacher training course in Morocco. "At Home" chapters, and questions and answers in a Montessori newspaper column, are inspiring to educators and parents alike.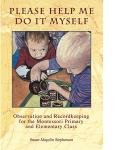 GB550 Please Help Me Do It Myself, Observation and Recordkeeping for the Montessori Primary and Elementary Class
$18.95
"This book would be very beneficial, not only for Montessori teachers, but for parents, caregivers, and anyone dealing with children of these ages. The book is supplemented by well-explained graphs and examples of how one can take notes on observations and record the progress of the children. I am a great fan of all of the author's books as they are easy to read and comprehend. They depict a deep and thorough understanding of children and contain many examples of her lifelong experiences and work with children." —Tayyaba Saleem, AMI Montessori Teacher Trainer, Karachi, Pakistan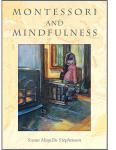 GB60 Montessori and Mindfulness, discontinued edition
$16.95 $10.00 On Sale!
This is the previous version of Montessori and Mindfulness. Very little has been changed except for the cover, the publishing data, and the list of books in the series at the end of the book. There are just a few copies left. Enjoy!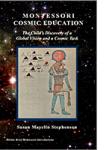 B231 Montessori Cosmic Education, The Child's Discovery of a Global Vision and a Cosmic Task
$10.95
This is the first in the new series "Brief Montessori Introductions" created for busy people, 40 pages. "Grounded in experience, Stephenson manages to convey the essence of one of Maria Montessori's fundamental principles – the inter-dependent nature of life and the very concrete steps to helping children express their natural tendency to live well with others and take care of planet. This book offers practical insights for parents and others interested in the Montessori approach." —Lynne Lawrence, AMI Executive Director


B232 Beginnings, Montessori Birth to Three Comparison with Traditions in Bhutan
$9.95
This is the second in the new series "Brief Montessori Introductions" created for busy people, 40 pages. Topics: Psychological Legs; Prenatal Months and Birth; Attachment; Sleeping; Food; Movement, Large and Small Muscles; Language; Movement and Independence; Dressing and Toilet Learning; Grace and Courtesy; Swaddling, Pacifiers, and Screens; The Past and the Future of Montessori Birth to Three Wisdom; Other Books; Author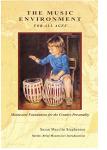 GB650 The Music Environment for All Ages
$10.95
This third title in the "Brief Montessori Introductions" series, "The Music Environment for All Ages, Montessori Foundations for the Creative Personality," is based on an article published in AMI JOURNAL 2014-2015. For parents and teachers. 40+ Pages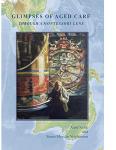 GB675 Glimpses of Elder Care through a Montessori Lens
$16.95
A collaboration between Susan Mayclin Stephenson and Anne Kelly who is head of the Dementia and Aging training at AMI (Association Montessori Internationale, Amsterdam), it contains much of the text from Anne's original Australian book "Forgetfulness, Feelings, and Farnarkling", the insight gained from Susan's Montessori work in 30+ countries, and a chapter on what Montessori called "needs and Tendencies" at the end of life. 90 pages.