GB460 A Crianca Alegre (Portuguese Edition of The Joyful Child)
$20.00
Portuguese translation of "The Joyful Child" Um livro para ajudar os pais a procurar, descobrir, apreciar e apoiar as necessidades mentais, fisicas e emocionais da crianca nos tres primeiros anos de vida. Com mais de 180 fotos em branco e preto da autora sobre seu trabalho com a filosofia Montessori ao redor do mundo com c desde o nascimento ate os tres anos de idade.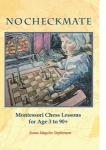 GB450 NO CHECKMATE Montessori Chess Lessons for Age 3 to 90+
$14.95
This book is about more than chess, but how to analyze activities, give lessons, and share our lives with children in the Montessori way.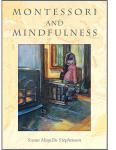 GB600 Montessori and Mindfulness
$16.95
This book was inspired by the presentation at the International Montessori Congress in Prague, Czech Republic in 2017. It is valuable for parents of a newborn, and teachers of children from preschool through high school.