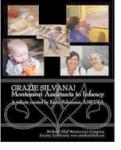 GB420 GRAZIE SILVANA! Montessori Assistants to Infancy (DVD)
$18.00
10-minute tribute to Silvana Montanaro, MD, for her 30 years work with the Montessori Assistants to Infancy (0-3) course. Directed by Karin Salzmann; Produced by Susan Mayclin Stephenson at The Michael Olaf Montessori Company. Universal Disc Format (UDF)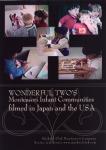 GB490 WONDERFUL TWO'S, Montessori Infant Communities in Japan and USA (DVD)
$25.00
Parents are often shocked when they see the potential of children under the age of three years in this 50-minute video filmed in AMI Montessori Infant Communities in Japan and the USA. Voice: Susan Mayclin Stephenson. Universal Disc Format (UDF)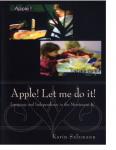 GB090 APPLE! LET ME DO IT! language and Independence in the Montessori IC (DVD)
$28.00
An old favorite 30-minute peek into a Montessori Infant Community by Karin Salzmann. See actual footage of language and independence of children under the age of 3 years. Universal Disc Format (UDF)




GB460 A Crianca Alegre (Portuguese Edition of The Joyful Child)
$20.00
Portuguese translation of "The Joyful Child" Um livro para ajudar os pais a procurar, descobrir, apreciar e apoiar as necessidades mentais, fisicas e emocionais da crianca nos tres primeiros anos de vida. Com mais de 180 fotos em branco e preto da autora sobre seu trabalho com a filosofia Montessori ao redor do mundo com c desde o nascimento ate os tres anos de idade.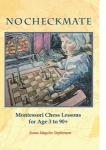 GB450 NO CHECKMATE Montessori Chess Lessons for Age 3 to 90+
$14.95
This book is about more than chess, but how to analyze activities, give lessons, and share our lives with children in the Montessori way.



GB500 Montessori Books Set/4
$66.80 $56.80 On Sale!
A set of all four of our Montessori books discounted. Separately they would be $67. This set includes: The Joyful Child (GB400), Child of the World (GB100), The Universal Child (GB110), and No Checkmate (GB450)



Now, and after Michael Olaf closes, the Montessori books written by Susan Mayclin Stephenson (4 titles so far and more coming) will be still available by Montessori book suppliers and Amazon.com in many countries. The titles so far are: "The Joyful Child . . . ", "Child of the World . . . ", "The Universal Child . . .", and "No Checkmate . . . "
Michael Olaf will close at the end of January, 2018. The books and videos on this page will be available from Amazon.com in the USA and several other countries.