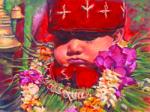 Susan's Teaching Materials & Gifts
This page contains materials that Susan used during her 0-12+ teaching experiences, and gifts and souvenirs from her Montessori work in many countries over the years. It is better that they are being used and appreciated than to be stored :-)

TIB160 "Topi" or traditional cap, from Nepal
$12.00 $3.00 On Sale!
Brought back from visiting a Montessori teacher in Kathmandu. This is a triditional children's hat from Nepal, for the Montessori classroom "Asia" box, or dressing up at home. Click the image for more information.




612P1 Fourth Power of a Sum
$350.00 $120.00 On Sale!
This, the first set of Fourth Power of a Sum includes sixteen prisms in red, yellow and black to represent the formula (a + b) raised to the fourth power. The set comes in a box with lid measuring 11" x 13". All Gonzagarredi products are approved by the Association Montessori Internationale (AMI). Find more information at fourthfifthpowerbinomial.pdf or search "Fourth Power of a Sum" on google.



23PUP Large Authentic Traditional Puppet from Thailand
$15.00
14" tall, authentic puppet brought home for travels for drama inspiration in our home and in my 6-12 classes. Made of wood and cloth in the tradition of Thailand.



22BIO Three Ladybird Biography books
$15.00
For the Ladybird book collectors, and there are many in the Montessori world. Julius Caesar, Charles Dickens, and Elizabeth Gaskell



30PYR Volume of a Pyramid
$200.00 $35.00 On Sale!
Very special Italian Montessori piece of material for calculating the volume of a pyramid. Box and lid that holds three identical wooden pyramids. Lovingly used, in need of slight paint touch-up.