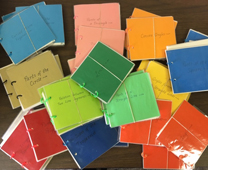 612GNOM Complege Montessori 6-12 Geometry Nomenclature Set
$750.00
Here are 30+ sets, the complete AMI Nomenclature. Each set contains the booklet, and the definitions stages, all hand made with love. Polygons (3), angles (8), lines (6), triangles (4), plane figures (6) other kinds of polygons (2), circles (3), point to solid (1).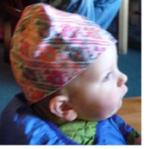 TIB160 Traditional Nepali Child's Hat
$12.00 $3.00 On Sale!
For the classroom "Asia" box. Each family has a specific weave and color that is passed down from generation to generation. There are a few left.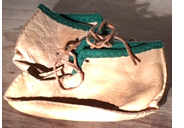 03BOT Handmade Scandinavian Infant Boots
$15.00
The "Sami" reindeer herder families of Northern Sweden and Norway make their own shoes for infants. This pair is made of reindeer hide and green fabric trip. Approximately 5" in length. For the Europe box.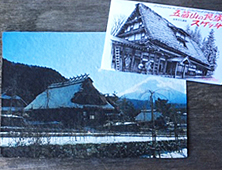 36GOK1 Gokoyama Print and Cards
$15.00
Gokoyama is an ancient area of Japan where homes are still as they were hundreds of years ago. This is an 11.5" x 8.5" print of one of the "Gassho Zukuri" houses. It comes with 4 postcards of original drawings of the houses and area.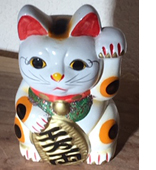 36MAN Maneki Neko "Beckoning Good Luck Cat" Bank
$6.00
You will see this in Japanese restaurants or shops worldwide. The cat is holding up a paw to welcome customers and it is thought to bless the establishment. A hand painted ceramic bank 5.5" tall.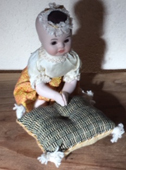 36PR Thailand Doll in Prayer
$15.00
A lovely traditional doll made of porcelain (head, hands, feet0 and traditional Thailand fabrics. 6" tall, the doll bows forward in prayer supported by a handmade pillow.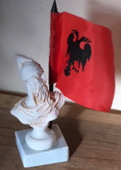 36SK Albania Skenderbeg and Flag, for the Europe box
$14.00
Skenderbeg was an Albanian hero who all children learn about. This is a beautiful minutely carved statue of him with the Albanian flag. 6.5" tall.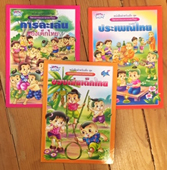 312TBK Thailand Children's Books, Set/3
$12.00
Three traditional school books from Thailand. Good for 3-6 Asia box, and for 6-12 class studying the development of languages. Even the page numbers are in Thai numbers. Each s full color, 16 pages, and together they present the games, celebration, and traditions of children's lives.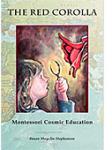 GB731 The Red Corolla: Montessori Cosmic Education - Wholesale
$22.00
Used in Montessori teacher training courses, preschool programs of all kinds, homeschooling groups. Detailed lessons for ages 3-6 and older children in the areas of physics, botany, zoology, history, geography, music, and art. Plus information on how the younger and older child, and the adult, can joyfully learn about the world and his/her place in it.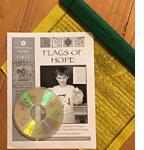 612F Flags of Hope
$30.00
Art, Music, and Social Studies in one package. A string of five 15x18" authentic Tibetan prayer flags (red, green, yellow, blue, white), a CD containing five pieces of original Tibetan music, and a booklet with information on the Tibetan people, prayer flags, lesson plans and project suggestions, and notes about the music tracks.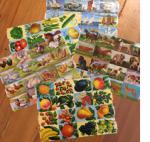 JVP Vocabulary Pictures from England
$10.00
Just found in teaching materials boxes! 5 sheets of colored vocabulary pictures that were used to make cards for the 3-6 classes, made in England. Each picture is 2.4x3". On the back of each is the name of the picture in English and 7 other interesting languages including Arabic. Each sheet contains one category: fruit, bird/farm, mammals (mostly dogs and farm), vegetables, and ships. There is interesting information on the backs of the ship pictures.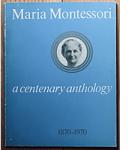 JMM Maria Montessori Centenary Anthology 1870-1970
$30.00
My personal copy of the anthology that was published by AMI to honor the centenary of Montessori's birth. 8x10", 79 pages full of picture and interesting information. The cover slightly worn, the information, including her letters to and from famous people of the world, is priceless.



JC80 AMI Communications 1980's
$30.00
Fifteen journals from AMI, The Association Montessori Internationale, in Amsterdam. The complete collection, three journals each year, from 1985, 1986, 1987, 1988, and 1989. A wealth of information on many subjects by the best international writers on Montessori.



JC90 AMI Communications 1990's
$44.00
Twenty-two journals from AMI, The Association Montessori Internationale, in Amsterdam. Included are 1990 (all 3), 1991 (3), 1992 (3), 1993 (3), 1994 (2 of 3), 1995 (3), 1996 (2 of 3), 1997 (3) A wealth of information on many subjects by the best international writers on Montessori.