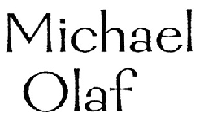 THE MICHAEL OLAF SHOP IS CLOSING IN EARLY 2018. We will continue to operate as a publishing company. We will continue to carry our own published Montessori books, and for a while, a few items that we have made locally. Our "SALE" page is changing daily. Thank you for the many years of supporting us. Best wishes for a great 2018 from everyone at The Michael Olaf Montessori Company.

Michael Olaf Parenting/Teaching Books/DVDs - Wholesale

PLEASE ALLOW AT LEAST 2 WEEKS IN ADDITION TO NORMAL SHIPPING TIMES FOR WHOLESALE ORDERS. These two books are considered by many to be the best and most accessible Montessori introductions available. They were written in consultation with parents, teachers and teacher trainers. The author, Susan Mayclin Stephenson, holds AMI Montessori diplomas for 0-3, 3-6, and 6-12 levels, and has 50 years of Montessori experience in many countries.

GB401 The Joyful Child - Wholesale
$19.95
Michael Olaf offers this discount to birth educators, schools and training centers, and retail outlets. "The Joyful Child" is used in sex education and human development courses for adolescents, for birth preparation classes, and to help families prepare their infants for attending a Montessori school. It is presently being translated into several languages by Montessori organizations.




GB101 Child of the World - Wholesale
$14.95
Michael Olaf offers this discount to university education classes, schools and training centers, and retail outlets. "Child of the World" is recommended as the best first introduction to Montessori for parents, students, and anyone interested in a comprehensive way to support the development of the individual. It is presently being translated into several languages by Montessori organizations.




GB111 The Universal Child, Guided by Nature - Wholesale
$16.95
This little book is an outcome of Susan Stephenson's PowerPoint presentation, of the same name, at the 2013 International Montessori Congress in Portland, Oregon. There are 56 pages, 150 colored illustrations.




GB451 NO CHECKMATE Montessori Chess Lessons for Age 3 to 90+ wholesale
$14.95
This book is about more than chess, but how to analyze activities, give lessons, and share our lives with children in the Montessori way.




GB601 Montessori and Mindfulness - Wholesale
$16.95
This book was inspired by the presentation by the author at the International Montessori Congress in Prague, Czech Republic in 2017